Lincoln Corsair: Electronic Engine Controls - 2.0L EcoBoost (177kW/240PS) – MI4 / Removal and Installation - Engine Coolant Temperature (ECT) Sensor
Materials
Name
Specification
Motorcraft® Orange Concentrated Antifreeze/Coolant
VC-3-B
WSS-M97B44-D

Removal
WARNING: Always allow the engine to cool before opening the cooling system. Do not unscrew the coolant pressure relief cap when the engine is operating or the cooling system is hot. The cooling system is under pressure; steam and hot liquid can come out forcefully when the cap is loosened slightly. Failure to follow these instructions may result in serious personal injury.
NOTE: Removal steps in this procedure may contain installation details.




WARNING: When releasing the cooling system pressure, cover the coolant expansion tank cap with a thick cloth.

Release the cooling system pressure by slowly turning the degas bottle cap between 2 and 3 turns and remove the degas bottle cap.

Remove the upper air cleaner outlet pipe.
Refer to: Air Cleaner Outlet Pipe (303-12A Intake Air Distribution and Filtering - 2.0L EcoBoost (177kW/240PS) – MI4, Removal and Installation).

NOTE: Have the new component ready to install to reduce coolant loss.

NOTE: Be prepared to capture escaping fluid with a shop towel.

Disconnect the ECT electrical connector, release the retaining clip and remove the ECT sensor.

Installation
To install, reverse the removal procedure.

Check the coolant level in the degas bottle and add coolant as necessary.
Material: Motorcraft® Orange Concentrated Antifreeze/Coolant / VC-3-B (WSS-M97B44-D)
Categories
Wet or winter driving conditions with ice, snow or salty road mist can cause inconsistent and unexpected wiping or smearing.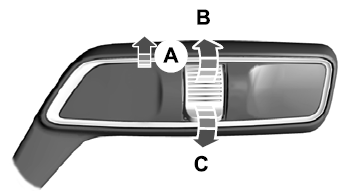 Autowipers On. High sensitivity. Low sensitivity.
Copyright © 2022 www.licorsair.com